---
---
---
Need it today?
Same Day Delivery
ENDS IN:
| | | | | |
| --- | --- | --- | --- | --- |
| Hours | : | Minutes | : | Seconds |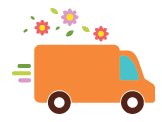 ---
Description
Want to convey your good thoughts and wishes to your dear ones? Then the Kalanchoe Garden arrangement is the answer for you. This colorful arrangement of red, yellow and green is bound to help you convey your best wishes in the best way possible.

The Kalanchoe Garden flower arrangement is made of Dieffenbachia Plant, Croton Plant, Blooming Kalanchoe Plants, beautifully arranged together in a basket.

The Dieffenbachia Plant belongs to the Araceae family. It, according to Brazilian folk tradition, protects one against negative energy. Even though the Croton plant with its color changing leaves carries a good deal of symbolism, it mainly represents cheerfulness and joy. Thus proving itself to be the best gift for cheering and encouraging someone. The Blooming Kalanchoe blooms for a long period, and it is from here that it derives its symbolism, i.e., endurance, persistence and unending love. This is the best gift for bringing a slice of joy in your college-going relative, your retiring colleague, or your house changing friend.

Since we place utmost importance in using only fresh and the best-quality flowers in all our flower bouquets and floral arrangements, based on availability, the actual product design, colors, varieties, and the container may slightly vary from the picture shown above.

---